Time to read: 3 minute read
Updated : Tue, October 6, 2020 @ 6:45 PM
Originally published : Wed, Aug 26, 2020 @ 09:57 AM
Following up with the panelists from our recent COVID-19 webinar, Part 3 of 3
In the previous two blog posts in this series, we shared insights from two of the panelists from our webinar, "How to establish COVID-19 diagnostics and keep up with demand," covering testing scale up and issues related to sensitivity and accuracy. In this final post of the series, we ask our panelists to address questions about some of the most pressing issues of today and the near future.

Q: Reagent supply shortages are a big issue. When using a "closed" instrument-reagent system, is it possible to substitute reagents from other vendors?

Dr. Chow: When using an IVD assay, there isn't a good way to substitute other reagents, especially with locked down systems that require barcoded or RFID-tagged reagents. This is one reason we decided to proceed with an LDT. It gives us more flexibility in terms of reagent and vendor selection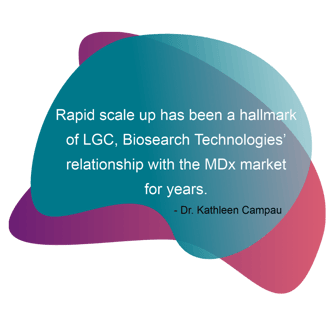 Dr. Campau: Unfortunately, many laboratories ended up with limited testing capacity during the initial COVID-19 peak because of shortages of reagents from their preferred vendors. Others ended up having to run a mixture of tests from different vendors on different days, with all of the disruption that can cause.
Eric's solution of running an LDT assay is a good way to address the issue of reagent supply. Other potential solutions include creating supply agreements with preferred vendors, keeping large "safety stocks" of key reagents, and identifying secondary suppliers.
Rapid scale up has been a hallmark of LGC, Biosearch Technologies' relationship with the MDx market for years. We worked with the CDC in 2009 to respond quickly with probes and primers for the swine flu pandemic, and again in subsequent years to address Avian Flu and seasonal flu subtyping, A among others.
For the COVID-19 pandemic, we have scaled up capacity in our oligos, extraction chemistry, enzymes and mastermix, and instrumentation product lines. We have prioritized fast turnaround for COVID orders, and are working with multiple companies and laboratories, both large and small, to help meet their demand, now and into the future.
Q: What are the critical facilities, infrastructure, and staffing issues that need to be addressed when implementing COVID-19 testing? How do you implement social distancing or safety for lab techs working at the bench?
Chow: We are implementing social distancing as much as possible in the lab. Each station is fairly well separated between each user and masks and PPE are required.
Campau: High throughput automation can be part of the solution, as far more can be accomplished in a given space with less personnel intervention required. As an example, the IntelliQube can, with one operator can, process what normally requires six typical qPCR instruments, numerous liquid handlers, and six people to run continuously. Automatically typically manual aspects of the workflow can be a helpful tool to address staffing shortages and enable social distancing when lab space is limited.
Q: Looking ahead to future needs, what approaches could be taken for screening asymptomatic individuals? What technological advances would need to be made to make this feasible?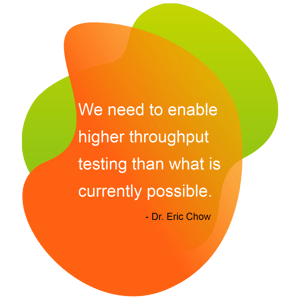 Chow: We need to enable higher throughput testing than what is currently possible. This can be accomplished through a combination of increasing the infrastructure of current testing methods and using other approaches such as NGS. However, I think one of the primary bottlenecks is in upfront sample accessioning and processing. If there are ways we can get users to accession themselves and remove the need for swabs (and swab removal prior to extraction) that would go a long way to increasing throughput.
Campau: To stay on top of community spread from asymptomatic individuals, we see massively wide-scale population testing as being an important part of the solution. But getting to the numbers needed will require increased use of high-throughput automation that can enable labs to routinely handle millions of tests.
A recent paper demonstrates that the most important factors for a successful surveillance program are frequent and quickly reported testing1. The authors conclude that "surveillance should prioritize accessibility, frequency, and sample-to-answer time; analytical limits of detection should be secondary."1
References
Daniel B. Larremore, et al. Test sensitivity is secondary to frequency and turnaround time for COVID-19 surveillance. medRxiv doi: 10.1101/2020.06.22.20136309.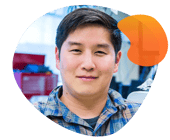 Eric Chow PhD
- Adjunct Assistant Professor, Biochemistry and Biophysics, UCSF
- Director, UCSF Center for Advanced Technology (CAT)
- Head of Technology, Laboratory for Genomics Research (LGR)
Eric Chow is one of the many basic research lab heads who responded to California's shelter-in-place orders by working with UCSF and the Chan Zuckerberg Biohub to create a "pop-up" SARS-CoV-2 testing lab. Staffed by volunteer scientists, the lab was originally started to expand testing capacity in Northern California.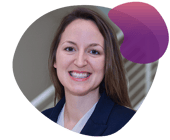 Kathleen Campau PhD
-Association Director, R&D, LGC, Biosearch Technologies
Kathleen Campau leads R&D for the Petaluma, California site of Biosearch Technologies where the team focuses on oligonucleotide chemistry, fluorophore and quencher development, oligonucleotide based assay design including genotyping and pathogen detection applications, as well as methods for manufacture of highly modified or complex oligonucleotides. Kathleen also led the recent commercial launch of Biosearch Technologies' CDC-qualified probe and primer kits for SARS-CoV-2.