Time to read: 3 minute read
Updated : Thu, November 16, 2023 @ 3:00 PM
Originally published : Wed, August 5, 2020 @ 9:22 PM
Updated : Tue, October 6, 2020 @ 6:42 PM
Following up with the panelists from our recent COVID-19 webinar, Part 2 of 3
In the face of a rapidly evolving pandemic, testing labs are constantly having to adjust and adapt their existing workflows. In our recent webinar, "How to establish COVID-19 diagnostics and keep up with demand," we assembled a panel of experts to share insights that can help testing labs find a path forward. In this continuation of our webinar follow-up conversation with panelists Eric Chow, PhD, and Kathleen Campau, PhD, we discuss questions from the webinar audience related to SARS-CoV-2 testing sensitivity and accuracy.
In case you missed the previous blog post on scaling up testing, you can read it here.
Q:False negative results have been reported in several laboratories. What factors could be contributing to these results and what can be done to mitigate them?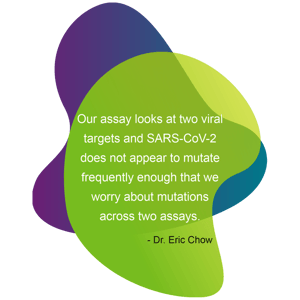 Dr. Chow:I believe that most of the issues with sensitivity are due to sampling and sample storage. An insufficient amount of sample could be acquired due to sampling technique variability, such as swabbing the wrong location or not swabbing enough.
We have also seen differences due to media type—UTM/VTM vs saline vs DNA/RNA Shield. Some media preserve nucleic acids much better than others. This becomes very important as testing backlogs mean some samples site around for a week or more before being processed.
Mutations can also affect detection, but our assay looks at two viral targets and SARS-CoV-2 does not appear to mutate frequently enough that we worry about mutations across two assays. However, to better understand the extent of this type of risk we are looking for mutations in common SARS-CoV-2 assay sites by using next generation sequencing (NGS) on all positive, indeterminate (one out of two of our viral targets are positive) and some negative samples.
Dr. Campau: Assay sensitivity issues also come into play with false negatives, with several high-profile examples already on the market.
Many of the assays currently on the market appear to give similar sensitivities, but sensitivity (usually reported as limit of detection (LOD)—see more detail below) is a complex measurement and no LOD standard for COVID-19 testing currently exists.
Several agencies are now recommending retests for patients testing negative by ANY test but presenting with suggestive clinical symptoms.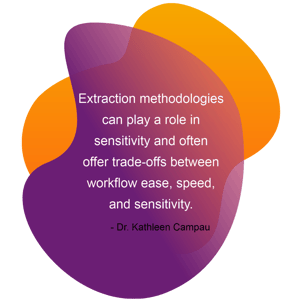 Extraction methodologies can play a role in sensitivity and often offer trade-offs between workflow ease, speed, and sensitivity. For example, our sbeadex™ chemistry is shown to result in no loss of sample nucleic acid through the purification process and thus result in a high sensitivity workflow. We also offer QuickExtract™ reagent, a super-fast, convenient method for sample extraction. However, one of the mechanisms behind QuickExtract's effectiveness is dilution and inactivation of inhibitors (rather than removal), which also dilutes the nucleic acid in the sample and thus may lower the sensitivity of the assay. In situations where this tradeoff is acceptable, QuickExtract eliminates several of the barriers to increase throughput.
Q:When a lab uses multiple assays for SARS-CoV-2 testing, can you compare the LOD from different tests? Is there an acceptable minimum sensitivity? How can sensitivity be increased?
Chow:There are definitely differences in LOD across different tests but no requirement for minimum sensitivity. One way to increase the sensitivity of a laboratory developed test (LDT) is by increasing the amount of material that goes into your assay. The easiest ways to achieve this are by increasing the amount of sample used in your extraction and by decreasing elution volumes.
Campau: LODs, as reported in the Emergency Use Authorization Instructions for Use, are influenced by every step of the test workflow, including sample type and sample collection device.
Many head to head comparisons of COVID-19 diagnostics tests have now been conducted and published which can help guide decision making as to which test to implement in your lab. Ultimately the choice of the best test to implement is a complex decision involving considerations of sensitivity, throughput, supply chain availability, and economics – not simply lowest LOD.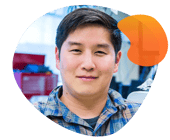 Eric Chow PhD
- Adjunct Assistant Professor, Biochemistry and Biophysics, UCSF
- Director, UCSF Center for Advanced Technology (CAT)
- Head of Technology, Laboratory for Genomics Research (LGR)
Eric Chow is one of the many basic research lab heads who responded to California's shelter-in-place orders by working with UCSF and the Chan Zuckerberg Biohub to create a "pop-up" SARS-CoV-2 testing lab. Staffed by volunteer scientists, the lab was originally started to expand testing capacity in Northern California.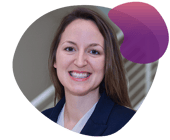 Kathleen Campau PhD
-Association Director, R&D, LGC, Biosearch Technologies
Kathleen Campau leads R&D for the Petaluma, California site of Biosearch Technologies where the team focuses on oligonucleotide chemistry, fluorophore and quencher development, oligonucleotide based assay design including genotyping and pathogen detection applications, as well as methods for manufacture of highly modified or complex oligonucleotides. Kathleen also led the recent commercial launch of Biosearch Technologies' CDC-qualified probe and primer kits for SARS-CoV-2.