Time to read: 3 minute read
Updated : Tue, July 25, 2023 @ 12:50 PM
Originally published : Mon, July 4, 2022 @ 2:05 PM
Updated : Wed, March 22, 2023 @ 1:59 PM
Since 13 May 2022, reports of monkeypox cases began to appear globally in regions not endemic to the monkeypox virus.1 As the number of confirmed cases continues to rise, there is a clear need for increased surveillance and diagnostic testing.
Molecular diagnostic (MDx) assay developers have learned a great deal from the COVID-19 pandemic about how to rapidly develop new diagnostics, finding that strong partnerships with manufacturers and component suppliers are critical. Many are now applying these lessons and responding to the need for new monkeypox diagnostics.
Our own rapid response
Building on our experience of rapidly responding to outbreaks and pandemics such as 2009 H1N1 (novel influenza A), 2013 Avian influenza A (H7N9) and SARS-CoV-2, LGC Biosearch Technologies™ has developed our new Monkeypox Virus and Orthopoxvirus ValuPanel™ Reagents*. These products incorporate all the usual benefits of our ValuPanel range, including:
Flexible assay design: Separately delivered probes and primers allow assay flexibility and sizes that facilitate scale-up

Reliable quality

:

Components are manufactured in an ISO 13485-certified facility.

Al

l probes and primers are HPLC purified, and manufactured and shipped from a facility entirely separate from positive control production.

Fast delivery

:

Product in stock ships the next business day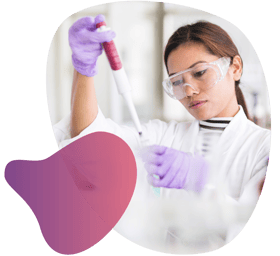 How we can help MDx assay developers
Throughout the COVID-19 pandemic, Biosearch Technologies demonstrated a unique ability to serve the diagnostic community as a reliable mission-critical component supplier. For those looking to design their own monkeypox assays and kits, we offer high-quality individual assay components to support diagnostic assays.
Custom oligos
Our custom oligo synthesis service allows you to build PCR probes and primers to support diagnostic monkeypox assay development. Biosearch Technologies can satisfy almost any oligo modification and manufacturing demands with high-quality oligonucleotides manufactured under both U.S. GMP standards (21 CFR Part 820) and ISO 13485. Simply enter your target sequence, select from the industry's largest selection of modifications, and choose a preferred purification option. As a leader in custom oligo design and manufacturing for in vitro diagnostics, Biosearch Technologies' GMP and Commercial Services supplies businesses at all stages of product development, from design to commercialisation.
Black Hole Quenchers
When designing qPCR assays, selecting a suitable probe for your application objectives is critical. Meticulous probe design around factors such as GC-content, secondary structure avoidance and target Tm values is necessary to avoid compromising specificity and quenching efficiency.
As the inventor of the Black Hole Quencher™ (BHQ™) dyes, Biosearch Technologies has helped set new standards for diagnostic accuracy and reproducibility for more than 35 years. BHQ dyes simplify the design, implementation and interpretation of qPCR assays, including those used in pathogen testing.
Dual-labeled probes
Dual-labeled probes are ideal for detecting the presence and quantifying the amount of specific target sequences. The top ten molecular diagnostic manufacturers leverage our proven BHQ technology in their assays. And, because we develop and manufacture our dyes in-house, we have a secure supply chain that enables our customers to scale up and advance their manufacturing and distribution efforts.
Tools to help you choose
Biosearch Technologies offers various chemistries and probe formats to support pathogen detection and viral load quantification. Use our guided navigation oligo finder and spectral overlay tool to identify suitable probes and dyes for your assay.
Enzymes and reagents

Optimising enzyme and reagent performance is critical to getting molecular diagnostic kits to commercialisation fast and cost-effectively. Our team can help:

Recommend the right off-the-shelf or custom enzyme for your application
Test and optimise the use of that enzyme to maximise assay performance
Provide technical support if challenges arise – whether that's compatibility issues or sub-optimal enzyme concentrations, volumes or quantities

Whether developing a PCR-based pathogen detection assay or using next-generation sequencing workflows for surveillance purposes, our comprehensive portfolio of enzymes and reagents is customisable to fit your needs. From initial R&D development to larger-scale production, we manufacture critical raw materials in-house and provide your team with a reliable supply of enzymes and reagents, in the right concentrations and at the right time.

Is contamination impacting the quality and reliability of your qPCR assay? Diagnose the cause of your unexpected results in this white paper.
Point of Care Testing (POCT)
To ensure POCT assay reliability, MDx manufacturers must consider and overcome challenges associated with POCT testing, including enzyme stability. To help meet the increasing demands for POCT testing, we developed our RapiDxFire™ Lyo-Flex 1-Step RT-qPCR 5x Master Mix with input from top molecular diagnostic assay manufacturers. The master mix is designed to meet the challenges of bringing PCR-based pathogen detection out of the lab to achieve predictable performance in unpredictable conditions.
If you're interested in developing a RT-qPCR POCT for monkeypox testing, refer to our blog post for more information.
A partner for every pivot
Biosearch Technologies has proven experience responding quickly and reliably to infectious disease outbreaks and pandemics. Our team is dedicated to delivering mission-critical supplies that provide fast, reliable information to help the medical community identify, treat and monitor pathogens such as monkeypox virus. When you partner with Biosearch Technologies, you can expect:
Customisable solutions: We have over 35 years experience in providing custom solutions, including scale, format, packaging and labelling, and production planning.
A reliable supply chain: We manufacture many of our products in-house, across multiple manufacturing sites to ensure continuous supply and support covering a broad geographic area.
Exceptional quality: Our ISO 13485-certified, modular manufacturing platform supports a seamless transition from R&D product development to commercial scale-up. We offer GMP-compliant (21 CFR Part 820) custom probes, primers and other oligos.
Expert support: Our team knows how to navigate the unique challenges that come with MDx assay production and can support you from product design and feasibility studies through to commercialisation.
*For Research Use and Surveillance Only. Not for use in diagnostic procedures.
References
1 World Health Organization. Disease Outbreak News; Multi-country monkeypox outbreak in non-endemic countries. Available at: https://www.who.int/emergencies/disease-outbreak-news/item/2022-DON385. Published 21 May 2022. Accessed 10 June 2022.