Time to read: 4 minute read
Updated : Thu, November 16, 2023 @ 3:00 PM
Originally published : Mon, March 16, 2020 @ 5:38 PM
Updated : Tue, March 21, 2023 @ 3:41 PM
*Since the original publication of this blog, LGC Biosearch Technologies is now the only acceptable commercial supplier of CDC-qualified SARS-CoV-2 probe and primer kits labeled with BHQ dye. Learn more here.
As the COVID-19 pandemic challenges society with the largest public health crisis of modern times, testing is a crucial part of the response. In the United States (U.S.), getting tests into the community has been challenging, in part due to the need to obtain an Emergency Use Authorization (EUA) from the U.S. Food and Drug Administration (FDA); however, in recent weeks, the US government has been doing its best to partner with private industry where the FDA has been fast-tracking more EUAs in effort to making testing more widely available across the country.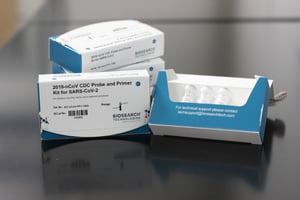 LGC Biosearch Technologies is now supplying SARS-CoV-2 probe and primer kits to the Centers for Disease Control (CDC), which has an EUA.* The CDC then qualifies the kits for distribution directly to testing labs, and we've assembled information about the process for other diagnostic test makers and CLIA labs who are seeking their own EUA.
How does an EUA keep the public safe?
For medical devices and in vitro diagnostic tests, an EUA is a risk assessment in which the Secretary of Health and Human Services determines that the public health benefit outweighs any potential risks associated with the immediate use of a test or device on patient samples during a public health emergency. The FDA sets the requirements for labs to show a benefit and the Secretary waives certain standard pre-market reviews as well as associated manufacturing and process validation controls (referred to as the medical device GMPs at 21 CFR Part 820) for the duration of the public health emergency.
What's the difference between EUA and the standard approval process for molecular diagnostic tests?
In non-emergency conditions, molecular diagnostic tests for specific pathogens, genetic diseases, or conditions are subject in the U.S. to the FDA's pre-market clearance or approval process. Whether a test needs to go through clearance and approval is determined by the risk posed to public health by the type of analyte or condition being detected/analyzed. Clearance is the lower risk path via the 510k process (named after the legislative reference within the Food Drug and Cosmetic Act (FD&C Act) which establishes the rules for US health care products to be marketed and the authority of the FDA to create regulations to implement and enforce the law). Approval for novel or high-risk devices goes down the pre-market approval (or PMA) path.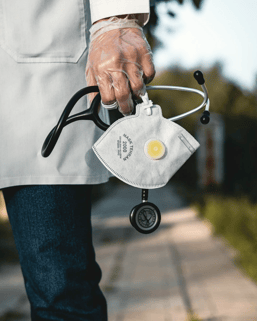 Clinical trials are part of both pathways-to-market and can be very extensive for the PMA path. In contrast, for an EUA, there is a "mock" clinical trial using contrived samples, which is the testing threshold needed to obtain the EUA and is defined by the FDA in a policy guidance that is specific for the public health emergency. The real clinical validation in an EUA situation occurs when actual patient samples are tested—hence the risk assessment that has to be made about the value of the specific test being considered.
What do I need to do to obtain an EUA for COVID-19 testing?
On February 29, 2020, the FDA issued a guidance document for CLIA labs and diagnostics developers seeking an EUA for SARS-CoV-2 molecular diagnostics tests, as well as two application templates, one for CLIA-certified high-complexity labs with experience developing and validating molecular diagnostics for viral pathogens, and the other for makers of molecular-based diagnostics. Both of these templates can be found at the FDA website.
The guidance includes the following validation recommendations on the minimal testing needed to ensure analytical and clinical validity:
The EUA application templates only cover respiratory specimens. Validation of non-respiratory specimens will need to be discussed with the FDA. (contact CDRH-EUA-Templates@fda.hhs.gov)

The EUA application should only include data from the most challenging matrix being tested.

Limited viral materials for validation can be obtained from the FDA, BARDA, and the CDC.

The first 5 positive and negative samples must be confirmed with a test that's already received EUA by the FDA.

Labs developing a molecular diagnostic test may also need to demonstrate traceability of their test to an FDA-recommended reference material panel.
Stable, non-infectious, replication-deficient reference material, is now available from LGC's SeraCare Life Sciences, a manufacturer and leading partner to global in vitro diagnostic manufacturers and clinical laboratories. The SARS-CoV-2 reference material was developed using SeraCare's proprietary AccuPlex™ recombinant technology.
Limit of detection(LoD):
Limits of detection (LoD) can be performed using RNA or inactivated virus spiked into an artificial or real clinical matrix, such as BAL fluid, sputum, etc.

LoDs should be assessed using a dilution series with triplicates for each dilution.

The final LoD concentration should include 20 replicates with 19/20 of the replicates reporting a positive.
Clinical evaluation:
A minimum of 30 contrived reactive specimens and 30 non-reactive specimens should be tested.

Of the 30 contrived reactive specimens, 20 should be at 1 – 2x of the LoD and the 10 spanning the assay's testing range.

Acceptance criteria: 95% for 1 – 2x LoD samples; 100% for samples above this range.
Inclusivity
In silico analyses should be performed to demonstrate that 100% of the SARS-CoV-2 sequences can be detected with the assay's primers and probes.
Biosearch Technologies offers a range of PCR reagents including master mix, reverse trascriptases, and hot start taq for pathogen detection designed for molecular diagnostic kit manufacturers. Also available for pathogen detection are BHQ® Probes, the gold standard for diagnostic testing, and bulk custom oligos. We also offer nucleic acid chemistry reagents for fluorescence detection and quenching, including BHQ and BlackBerry Quencher synthesis reagents.
Cross-reactivity
Cross-reactivity can be assessed through in silico analysis of the assay's primers and probes against common respiratory flora and other viral pathogens, where cross-reactivity is defined as >80% homology between one of the primers and probes and the microorganism.
In addition, the FDA must be notified when clinical use of a validated test begins and the EUA application submitted within 15 days of beginning clinical testing.
What else should I know?
The EUA is only a temporary authorization. For both CLIA labs and molecular diagnostics developers, this means the approval is only until the FDA terminates the public health emergency or the EUA is revoked. Molecular diagnostics developers are advised to register and list your EUA product and also begin the standard pre-market approval processes.
The FDA also has an FAQ with detailed information and links to the February 29 guidance document.
How is Biosearch Technologies supporting the effort against COVID-19?
Biosearch Technologies is committed to our mission of using science for a safer world. Our NAC reagents were in the first COVID-19 diagnostic kits deployed in Wuhan, China, by Shanghai Liferiver Biotechnology, and we are ready to support other SARS-CoV-2 diagnostic kit developers with large scale delivery of synthesis reagents such as CPG and phosphoramidites. We are also expediting processing and shipping of all orders related to COVID-19, including custom PCR reagents such as RapiDxFire qPCR master mix and EpiScript Reverse Transcriptase enzyme, and Nucleic Acid Chemistry (NAC) reagents. SeraCare is supporting IVD Companies with AccuPlex produced positive and negative controls and is supporting the clinical laboratories with Reference Materials for SARS-CoV-2 assay validation, performance testing and QC.