Time to read: 3 minute read
Updated : Tue, July 25, 2023 @ 1:05 PM
Originally published : Wed, September 1, 2021 @ 7:36 PM
Updated : Wed, November 9, 2022 @ 8:20 PM
The COVID-19 pandemic brought tremendous change to the molecular diagnostics (MDx) industry, delivering opportunities for companies to quickly get SARS-CoV-2 tests to the market via emergency use authorisation (EUA) while disrupting timelines for other pre-existing product development projects.
Now, emerging variants are still creating uncertainty for staffing and supply chains, calling for companies to remain vigilant. To help early-stage companies navigate the challenges of launching a product during COVID-19 times, we've assembled a few recommendations based on our "6 tips for early-stage MDx companies seeking successful commercialisation," an interview with industry advisor and veteran investor Harry Glorikian and an R&D scientist from an MDx startup company.
Plan for uncertainty
One of the overarching messages that Glorikian shared is the need to have a comprehensive plan from the very beginning, "You need to have a really well thought-out strategy from R&D through commercialisation, including regulatory. Otherwise there are hiccups down the road."
We'd like to add that planning over the next twelve months and potentially even longer needs to include contingencies, potentially adapting to changing pandemic conditions. Fluctuating surges of COVID-19 cases shows that the rise of new variants can continue to overwhelm hospitals. As a result, these hospitals are unable to partner with MDx developers to run studies or to consider onboarding new assays because all of their efforts are focused on delivering care to COVID-19 patients while maintaining care for non-COVID-19 patients.
One way to mitigate the potential data collection delays caused by emerging variants is to partner with hospitals that are geographically distant and build relationships with hospitals that could serve as backup data collection sites.
Find vendors that can be partners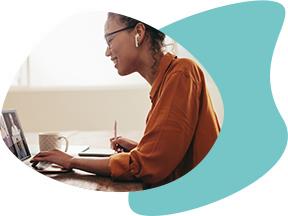 Glorikian also talks about the importance of finding partners that can complement an early-stage company's in-house expertise, "At a small company, it's going to be difficult to get the required expertise in-house, unless they're extremely well-funded...so it could behoove someone to ask the right partner or have the right consultants." Glorikian noted that he sometimes encounters companies that focus too heavily on the research and thus need extra help on the commercial side.
One source of external expertise that you might consider in a potential partner is your components supplier. For example, at LGC, Biosearch Technologies™, we have extensive expertise in product development and regulatory requirements, as well as insight into market conditions that can provide additional value above and beyond the reagents we supply.
And, because we operate globally and have a global logistics network you can benefit from a single supply source and resilient supply chain, protecting you from any logistical challenges you might face by disruptions caused by the pandemic.
Think about scale-up and timing
Part of the planning process for MDx product development is finding suppliers for small scale early-stage studies as well as for when you are ready to scale up. With the pandemic adding unanticipated delays during development, you can potentially save money as well as gain peace of mind by working with a company like Biosearch Technologies that can scale with you as you grow.
"With assay components, it's always nice to save a few pennies," Glorikian says. "But you don't want to be penny-wise, pound foolish."
When you work with a single supplier for both small scale and large scale needs, you can make that seamless transition to commercialisation, scaling up or down as demand requires. A dependable supplier can also continuously produce reliable product quality and batch-to-batch consistency so there is less unpredictability in your timelines.
Find the right supplier
The many changes the COVID-19 pandemic brought to MDx development are unlikely to ever completely go away. Planning well and finding the right partners and allies is critical to smoothly run a business. If you'd like to learn more about choosing a supplier for MDx development and manufacturing, you can download the guide, "How to choose a molecular diagnostics supplier: a guide for early-stage companies."
Working with Biosearch Technologies enables you to shift gears with confidence, knowing that you have a team of experts supporting you. Experience a unique form of collaboration to help you achieve more than you might have thought possible.
Make sure you cover every consideration when choosing a supplier by reading the guide "How to choose a molecular diagnostics supplier: a guide for early-stage companies"