Time to read: 2 minute read
Updated : Tue, July 25, 2023 @ 5:21 PM
Originally published : Mon, March 5, 2012 @ 10:35 PM
Updated : Wed, October 1, 2014 @ 4:51 PM
Non-squamous, Non-small cell lung cancer (NSCLC), the most common cause of death in the US and globally, has recently been dealt a significant blow as a result of collaborations among teams from UCSF Thoracic Oncology, Kaiser Permanente Research, and the China Clinical Trials Consortium (CCTC) uniting hospitals and universities across mainland China.
In the United States, 150,000 people die annually from the disease, more than breast, colon and prostate cancers combined; 85% of Americans die of lung cancer within 5 years of diagnosis. Worldwide, nearly 1.4 million people die annually. The major challenge in the treatment of lung cancer is a result of the difficulty in the cancer staging process after surgery. Up until now, staging methods have relied on anatomy: size, location and microscopic appearance of the cancer. Lung cancer staging is based on the tumor-node-metastases (TNM) staging system, adopted for lung cancer in 1973-4 and last updated in 2009. Unfortunately, this staging method does not adequately classify patient risk after initial surgery; 35-45% of Stage I lung cancer patients die within 5 years due to recurrent disease because of the inability to find metastatic cancers at Stage I. Under the current system, a "watch and wait" approach is normally applied to early stage NSCLC patients before additional therapeutic interventions such as chemotherapy, radiation treatments, or additional surgery are attempted in order to circumvent further metastasis.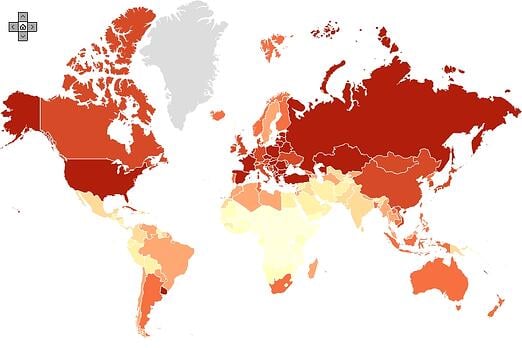 Map: Lung cancer incidence Worldwide in 2008: Men
from GLOBOCAN 2008 (WHO International Agency for Research on Cancer (IARC)) , Section of Cancer Information (29/2/2012)
Dr. David Jablons, Chief of Thoracic Surgery at UCSF, and Kaiser Permanente's Research team in Oakland, CA, led by Dr. Stephen Van Den Eeden, conducted a blinded study of lung biopsies from 433 patients in Northern California with Stage I cancer. A similar blinded study was concurrently conducted at China's CCTC on 1,006 lung cancer patients. Both blind studies used quantitative PCR (qPCR) to analyze the expression of 14 genes in FFPE and paraffin-embedded tumor tissues: 11 genes are cancer-related, 3 are housekeeping genes. The staging algorithm used in the study accurately differentiated patients with disease at Stages I, II and III into 3 groups: high, intermediate or low risk. Application of this test will assist physicians with earlier assessment of the advisability of adjuvant treatment regimens beyond surgery.
The test is being offered commercially by a startup, Pinpoint Genomics, through their CLIA-certified laboratory facility in Mountain View, CA. The company is also developing additional diagnostic products to assist in the prediction of the clinical response of individual tumors to different chemotherapeutic regimens.
Biosearch Technologies is proud to be the supplier of the custom probes and primers used in the qPCR assays that helped power this research effort. We are pleased to see the significant strides being made in the field of oncology and look forward to being a part of the world's fight against cancer.
For more information:
Learn how Biosearch Technologies can support your multiplex diagnostic test development by visiting: http://www.biosearchtech.com/gmp-and-commercial-services/oligonucleotide-manufacturing/ivd-and--molecular-dx
A practical molecular assay to predict survival in resected non-squamous, non-small-cell lung cancer: development and international validation studies
The Lancet, Early Online Publication, 27 January 2012 doi:10.1016/S0140-6736(11)61941-7
The New Lung Cancer Staging System
CHEST July 2009 vol. 136 no. 1 260-271, doi: 10.1378/chest.08-0978
Revisions to the TNM Staging of Non–Small Cell Lung Cancer: Rationale, Clinicoradiologic Implications, and Persistent Limitations
RadioGraphics January 2011 31, 215-238, doi: 10.1148/rg.311105039
Genes used in the prognostic algorithm:
11 Cancer‐related target genes: BAG1, BRCA1, CDC6, CDK2AP1, ERBB3, FUT3, IL11, LCK,RND3, SH3BGR, WNT3A
3 reference genes; (ESD, TBP, YAP1)