Time to read: 4 minute read
Updated : Fri, March 29, 2019 @ 4:39 PM
Originally published : Fri, Mar 29, 2019 @ 11:24 AM
We've heard it said for years, "TV will rot your brain". But in the case of our three colleagues below, that definitely wasn't the case. Shows like "Once upon a time...Life" and "3-2-1 Contact" sparked curiosity in our team members and set them on the path that eventually led them to LGC, Biosearch Technologies™. As we wrap up this month celebrating all the great women in science throughout history, we take a look at and salute a few of the trailblazing women here at LGC.
Ariane Mogha, PhD, Senior Field Applications Scientist
When did you first become interested in science? What got you involved in it?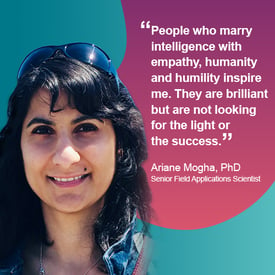 When I was 7 or 8 years old, I loved watching a cartoon called "Once upon a time …Life", also known as "Micro Patrol" which described how the human body worked. One day the cartoon episode was about DNA and I was amazed by this molecule which contained all the information to build a full body. I remember I wished I could be a "DNA researcher" in the future.
What work do you focus on at LGC?
I provide technical support to LGC Sales Team and to our customers on LGC products. I participate in instrument installation and customer training and I provide remote and field support to our customers when it comes to troubleshooting issues requiring scientific background. In the end, my main focus is customer satisfaction.
Who inspires you?
People who marry intelligence with empathy, humanity and humility. There are some of these pearls in LGC and not always where you would expect them to be. They are brilliant but are not looking for the light or the success. They defend positions, convictions and ideals to achieve both performance and respect of the co-workers or mates.
What does science mean to you today?
Science is for me a philosophy of life. It teaches me that ignorance is a dangerous weapon because it gives the illusion of a fake superiority, while knowledge actually makes you humble as the more you learn, the more you realise there's so much you don't know. Science says that all humans are Homo sapiens, whatever their colour of skin, their religion or their sexuality is. Scientific reasoning provides us with a critical eye towards the flow of information we are being drawn in, in these times of social media and immediacy. And finally, science is synonym of integrity: a scientific theory is true until the contrary has been proven. So I believe science is essential for a healthy society, in all aspects.
Dominique Fauvin, PhD, Technical Business Manager EMEA
When did you first become interested in science? What got you involved in it?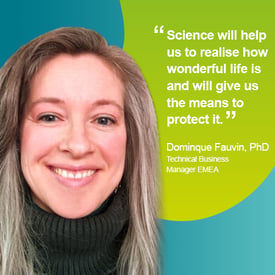 We had this amazing children TV cartoon "Once upon a time… Life" in France, and I just loved it! It explained how the body works, it went quite deep into the science explanation of the different functions of the body, while being very easy to understand. This made me super interested in science, and especially in biology. From then, I knew I wanted to be a researcher in biology to understand everything else I couldn't yet understand.
I therefore worked around this goal through school, Uni and ultimately my PhD, after which I realized that what I liked was understanding a little bit of many things rather than being specialized in one area. So I left academia and went into industry where I could satisfy my thirst of variety: working in many areas and learning so many great things.
What work do you focus on at LGC?
I am Technical Business Manager, which means that I am a sort of a Swiss Army knife: I am a "multi-tasker" and will help as needed. Interacting with various LGC teams, my role is key for developing networks with scientists across Europe, which is a multi-cultural territory, and for implementing the wide range of LGC solutions in fields with complex activities: Nucleic Acid extraction, amplification, cloning, sequencing, oligos and probes, gene editing, therapeutic oligos etc. I love it as on any given day I will work on a variety of great projects, like helping rice breeders to define which variety would be the best fit for their territory, collaborating with hospitals to help them set up a genotyping panel for their blood typing or pharmacogenomics activities, working with researchers who study the optimum way to feed the world, etc.
Who inspires you?
I like the example of Hedy Lamarr, an actress in the 40s who was also a self-taught inventor, and developed a radio guidance system now used in WiFi and Bluetooth. She didn't stop at being what people expected her to be, she went ahead of conventions and changed the world. And I am very inspired by so many non-famous people who change the world at their level every day.
What does science mean to you today?
For me, science is everything which will make the world better. Hard sciences, environmental or social sciences alike, they are ways for us to understand the world and improve it. Despite the current gloominess and pessimism worldwide, I strongly believe science will help us to realize how wonderful life is and will give us the means to protect it.
Melissa Siewert, Product Marketing Director - Instruments & Reagents
When did you first become interested in science? What got you involved in it?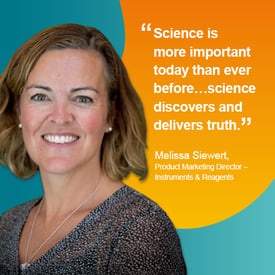 My interest in science started with the Public Television show "3-2-1 Contact" in the 1980s. It aired after school, and I remember coming home and watching intently as the show examined many scientific topics, and even more importantly critical thinking skills and the scientific method. The show sparked in me an intrinsic curiosity and provided an outlet through which I could explore a wide variety of physical, biological and chemical scientific content via an accessible format. The timing of that show coincided well with content we were learning in school. I went on to major in biology in college, and have had the wonderful fortune to work in the life science industry for my entire career.
What work do you focus on at LGC?
Today, my work focuses on developing the business infrastructure that delivers products of high value to our target customer segments. I identify closely with our divisional vision statement: Serve customers with mission critical applications where our specialty genomic products are essential to their operations. My goal every day is to serve both my internal and external customers with the support, coaching, and leadership necessary to maximize the commercial success of our product portfolio.
Who inspires you?
My inspirations are our customers and my children. There will continue to be amazing breakthrough accomplishments throughout the scientific community that will have fundamental benefits for future generations in areas such as feeding the world population, curing diseases, and climate change. A project I worked on about 10 years ago contributed to the discovery of zelboraf for the treatment of melanoma. This project illustrated the direct impact of our work. The more quickly our products can help researchers bring these types of discoveries to mainstream society, the better off our world will be for my children and humanity in general.
What does science mean to you today?
Science is more important today than ever before. In contrast to all the misinformation circulating on social media and through other channels, science discovers and delivers truth. Through this truth, we will realize our fullest potential as individuals and as a world community.
So let the little girls dive into shows like "Planet Earth", "Blue Planet", and "Life". But also let them read books, do experiments, ask questions. Let them explore and discover science in their every day lives. They may just be the next Marie Curie, Barbara McClintock, or Lise Meitner - and we could always use more of those in the world.