Time to read: 4 minute read
Updated : Thu, November 16, 2023 @ 3:00 PM
Originally published : Wed, December 22, 2021 @ 11:29 PM
Updated : Tue, December 28, 2021 @ 3:30 PM
What's changed for clinical labs as we enter the third year of COVID-19 testing?
COVID-19, the illness caused by SARS-CoV-2, has altered day-to-day life around the world and has been particularly disruptive for clinical labs. As we enter the third year of COVID-19 testing, resilient labs face new challenges, opportunities and questions. LGC, Biosearch Technologies™ explores how COVID-19 testing has changed since the height of the pandemic and offers insights into what's ahead for clinical labs in its latest blog series.
We first covered staffing woes; our second blog post in the series now turns to how labs adapted to overcome operational challenges and examines how alternative testing strategies could help support future workflows.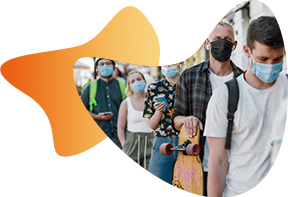 Alternative testing strategies for COVID-19 diagnosis
Early in the pandemic, testing wasn't widely available, and it wasn't uncommon for people to wait hours in line for a test. By the fall of 2021, hundreds of COVID-19 test platforms were commercially available, and testing was widely accessible in most areas.5 Point-of-care (POC) testing sites took some of the burden off of clinical labs, and patients even had the option of at-home test kits that delivered results in as little as 15 minutes.1
While alternative testing methods offered some relief to clinical labs, they also complicated lab accessioning. As new tests and testing protocols were established, labs had to adapt to processing various specimen types of varying quality. This added inefficiencies to sample preparation and analysis, slowing turnaround times for labs. At least 48% of clinical labs adopted new testing methodologies or automation to meet the demands of COVID-19 volumes, and many startup and pop-up labs were launched, pointing to a significant investment in COVID-19 testing.2
In some cases, laboratories were forced to implement multiple platforms to support specimen processing capacity amid reagent shortages. Simultaneously employing multiple platforms could lead to inadvertent errors as different reagents, techniques and expertise are required across different testing platforms.3 Processing inefficiencies can also occur when lab personnel are forced to multitask between analysers, ultimately delaying turnaround time. While fully automated RT-PCR systems designed for high-throughput help overcome some of these challenges, access to the technology remains critically limited, especially for low- and middle-income countries.3
As labs looked to improve efficiency and scalability, they began pooling samples to save time and resources. Sample pooling assesses whole populations before moving to larger numbers of individual tests. It is an effective strategy in communities with expected low positivity rates and can reduce the burden on clinical labs and their accessioning workflows.4 As labs headed into flu season, the US Centers for Disease Control and Prevention (CDC) encouraged using multiplex tests that detected SARS-CoV-2 and influenza to promote efficiency and make the best use of resources.5
While RT-qPCR testing remains the gold standard for SARS-CoV-2 detection, new testing methods, including droplet digital PCR (ddPCR), may soon enable labs to significantly improve accuracy and reduce the false-negative rate for SARS-CoV-2 in pharyngeal swab specimens. ddPCR is a sensitive method suitable for low viral load specimens, typical of asymptomatic patients.6 RT-ddPCR could be used to quantitatively monitor recovering patients to evaluate disease progression. For labs, digital droplet assays could enable detection and quantification of SARS-CoV-2 with limited sample processing, easing accessioning burdens.3
New modalities for COVID-19 testing are being researched and could soon be added to the screening toolbox alongside RT-PCR tests. For example, artificial intelligence (AI)-based breath tests could become a quick, low-cost and non-invasive testing method to screen for COVID-19.6 Currently several barriers stand in the way of a widely available AI-based breath test, including relatively low specificity and the need for validation. In spite of these barriers, tests that sample respiratory droplets from the lower respiratory tract are being explored for COVID-19 molecular testing.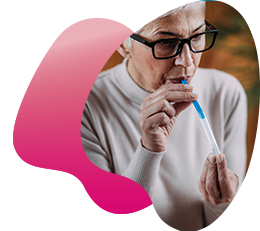 The global swab shortage experienced during the pandemic makes alternatives to nasopharyngeal testing appealing. Saliva has become a leading candidate for testing because studies show that SARS-CoV-2 RNA can be reliably detected as early as the first week of symptom onset.7 Saliva-based sampling for SARS-CoV-2 detection via rRT-PCR can potentially address many of the barriers associated with nasopharyngeal swab sampling. For example, saliva samples can be self-collected and do not require a trained professional. Collecting a saliva sample is non-invasive, painless and easy, making it suitable for children, anxious, disabled and elderly patients. Its format can also be more cost-effective for screening large populations because it is easy to store and ship.6 For saliva samples that require lab processing, challenges may remain in obtaining appropriate saliva volumes for testing and overcoming pipetting difficulties for overly viscous samples.
In just two short years, plenty of research and development has been completed to support more efficient, cost-effective and standardised ways to manage COVID-19 samples. But more work needs to be done. To prepare for future pandemics, labs need better access to scalable diagnostic tools and continued technological advances, including machine learning and smartphone integration.3
Biosearch Technologies is a trusted partner in the fight against COVID-19. Our technical experts, extensive research and development capabilities and innovative products support evolving COVID-19 detection programmes. From diagnostic testing to genomic surveillance and automated workflows, we're delivering comprehensive solutions that promote safer, healthier communities.
References