Time to read: 4 minute read
Updated : Tue, July 25, 2023 @ 12:56 PM
Originally published : Tue, January 4, 2022 @ 5:23 PM
Updated : Tue, January 11, 2022 @ 6:00 PM
What's changed for clinical labs as we enter the third year of COVID-19 testing?
COVID-19, the illness caused by SARS-CoV-2, has altered day-to-day life around the world and has been particularly disruptive for clinical labs. As we enter the third year of COVID-19 testing, resilient labs face new challenges, opportunities and questions. LGC, Biosearch Technologies™ explores how COVID-19 testing has changed since the height of the pandemic and offers insights into what's ahead for clinical labs in its latest blog series.
The third blog post in the series discusses how vaccines and surveillance programmes have affected testing strategies and examines how labs can prepare for evolving virus variants.
Effects of vaccines and surveillance programmes on COVID-19 testing
The COVID-19 vaccine shifted the trajectory for SARS-CoV-2 testing rather dramatically in some areas. In the US, for example, testing for the virus declined from two million tests per day in January 2021 to only about one million by March 2021 as more people received COVID-19 vaccinations. The UK was one of the first countries to focus on vaccinating their population as quickly as possible. The use of PCR tests to confirm positive lateral flow results in the UK has followed the trends of waxing and waning infection prevalence.1
As restrictions loosened with the vaccine rollout, people began to return to workplaces, schools and other public places. Testing continued to play a critical data input to assess populations as a whole through genomic surveillance and individually through screening tests. Surveillance testing doesn't report on an individual's diagnosis, but rather helps characterise the infection prevalence in a community that can be useful in tracking outbreaks and detecting the presence of variants. Screening involves testing asymptomatic individuals who do not have known or suspected exposure to COVID-19 to make individual decisions based on the test results.2
The Delta variant surge triggered an increase in demand for screening tests with a corresponding shift in workload for clinical labs. The need for diagnostic tests in the US exploded nearly six-fold in two months, from around 250,000 per day in early July 2021 to almost 1.5 million in mid-August.3 The UK Health Security Agency (UKHSA) announced in December 2021 that they would expand at-home deliveries of PCR and lateral flow tests to 900,000 per day while increasing access for pharmacies to 10.5 million rapid tests per week.4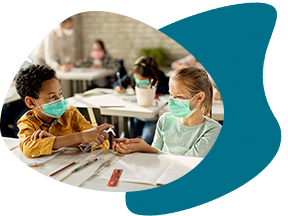 Further increasing testing demands, many schools, offices, airlines and other public spaces started requiring negative COVID-19 tests. Industry executives and state health officials estimated that surveillance programmes for workplaces and schools in the US would require tens of millions of additional COVID-19 tests than what was readily available.3 Around the world, those who had banked on vaccines to curb the impact of the pandemic now found it necessary to reopen mass testing sites that had shuttered in the summer, grapple with lagging PCR test result turnaround times and, ultimately, revisit lessons learned early in the pandemic.
Labs prepare for virus variants and support sequencing efforts
SARS-CoV-2 variants added another layer of complexity to COVID-19 testing for diagnostic labs. As previously noted, the surge in Delta variant infections caused spikes in COVID-19 testing during the summer of 2021. Clinical labs are now faced with another surge due to Omicron, while still recovering from the Delta caseload.
As researchers continue to monitor the SARS-CoV-2 virus and its evolution, it has become clear that variants pose a risk to accurate diagnostic testing. The US Food and Drug Administration (FDA) warned clinical labs that false-negative results could occur with any molecular test that detects SARS-CoV-2 if a mutation occurs in the part of the virus' genome assessed by that test.5 To overcome false-negative results from variants, the FDA encouraged labs to use molecular tests designed to detect multiple SARS-CoV-2 genetic targets. Assays that target more than one genomic target have a better chance of performing as expected regardless of mutations than tests that only detect a single target.
Since the SARS-CoV-2 virus mutates regularly, labs must continuously assess potential impacts to COVID-19 testing programmes. The clinical implications of genetic variants on test sensitivity are influenced by the variant's sequence, the diagnostic test's design and the variant's prevalence in the patient population.5
Although genomic sequencing doesn't play a part in routine SARS-CoV-2 laboratory diagnosis, it is essential to monitor changes in the viral genome over time and follow trends in disease transmission.6 Monitoring the SARS-CoV-2 virus for mutations can help labs prepare for the next potential variant of concern and influx of patient samples. Diagnostic labs play a critical role in virus variant monitoring. Worldwide, labs began saving a selection of positive COVID-19 samples for sequencing to monitor changes in the virus's genome and track transmission trends. The UK, considered a leader in sequencing, announced in July 2021 that it had sequenced more than 600,000 positive COVID-19 samples.7 While other countries, including the US, continue to fall short of those numbers, sequencing has improved dramatically since the beginning of 2021.
Next generation sequencing (NGS) protocols can rapidly generate viral genome sequences to inform diagnostic development, epidemiologic investigations, host-virus interactions, viral evolution, pathogenesis, and prevention and treatment targets.6 Strengthening global sequencing capacity can help researchers anticipate the latest wave of disease and manage future outbreaks.
Biosearch Technologies understands that evolving virus mutants create challenges for accurately diagnosing and treating COVID-19. We offer comprehensive solutions to detect the presence and manage the impact of SARS-CoV-2 variants, supporting diagnostic testing, sequencing and genotyping. Our technical teams are vigilantly monitoring virus variants to ensure that our assays continue to deliver the reliable, accurate results our customers depend on. Learn more about the steps we're taking to maintain the quality of our SARS-CoV-2 assays.
References