Time to read: 3 minute read
Updated : Thu, November 16, 2023 @ 3:46 PM
Originally published : Fri, September 10, 2021 @ 8:56 PM
Updated : Wed, December 14, 2022 @ 4:43 PM
This is the first blog post in a three-part educational series about best practices for in-house oligonucleotide synthesis.
Oligonucleotide synthesis is the foundation of many molecular biology applications, including polymerase chain reaction (PCR), gene editing, DNA sequencing and therapeutics/drug delivery. The scientific progress we've seen in diagnostic testing, biotechnology and pharmacology over the past 35 years was supported, in part, by advances in oligonucleotide synthesis. Let's take a deeper dive into oligonucleotide synthesis powered by phosphoramidite chemistry and examine the benefits and limitations of in-house and outsourced production.
How are oligonucleotides synthesised?
Today, commercial manufacturers create oligonucleotides using the phosphoramidite chemistry method introduced more than 35 years ago.1 Its straightforward 4-step cycle is simple and efficient, and
is the basis of modern automated oligonucleotide synthesis instruments.
The method relies on coupling DNA phosphoramidite nucleosides on a solid support to build a growing oligonucleotide chain. A four-step cycle that consists of deblocking, activation, capping and oxidation commences to attach each additional nucleoside to the oligonucleotide. After the entire oligonucleotide is built, it is cleaved from its solid support and post-synthesis processing, including deprotection, initiates.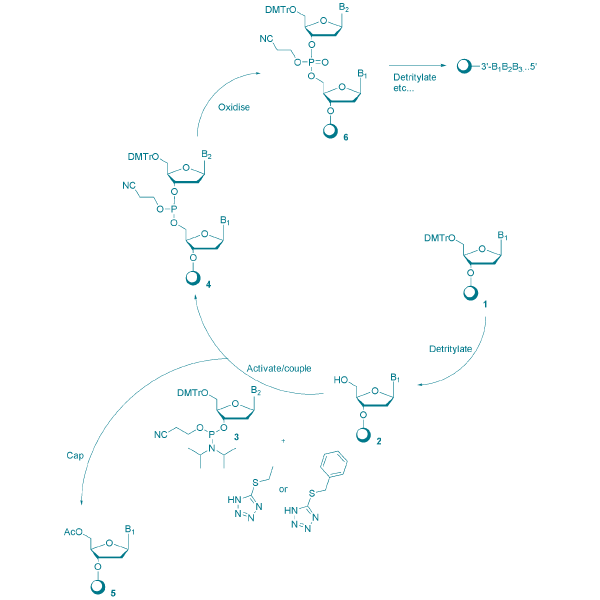 Figure 1. The oligonucleotide synthesis cycle using phosphoramidite chemistry.
Synthetic production of oligonucleotides is possible due to the protecting groups on the nucleoside phosphoramidites, which prevent unwanted side reactions during synthesis. The four classic protected DNA nucleoside phosphoramidites are benzoyl-dA, benzoyl-dC, iso-butyryl-dG and dT (which requires no base protection). Acetyl-dC is also widely used. In addition, UltraMILD monomers, phenoxyacetyl (Pac)-dA, and iso-propylphenoxyacetyl (iPr-Pac)-dG are nucleoside phosphoramidites that use alternative protection groups when sensitive labels and tags are incorporated into an oligonucleotide.
Production considerations: in-house or outsourced?
Deciding whether to produce oligonucleotides in-house or outsource the work to a commercial manufacturer requires a thorough analysis of project objectives, available resources and economics. There are benefits and limitations of both in-house and outsourced oligo production, and the most appropriate choice may not always be obvious.
In-house oligo production can be an economical option in situations where a large-scale product is required. With the right equipment, expertise and protocols in place, the ability to scale production in an on-site manufacturing facility is relatively simple. In addition, there is likely more flexibility and control when operations remain in-house.
As both a component supplier and an oligo manufacturer, Biosearch Technologies maintains a strict separation between systems and services supporting external oligo producers, and the systems and teams supporting our oligo design and production offerings. Reach out to our technical services team with specific questions.
Alternatively, outsourcing oligo production might be the best option if rigorous quality standards are required or if internal resources limit production capabilities. Most researchers and many therapy/diagnostic developers may prefer to outsource oligonucleotide manufacturing operations instead of building in-house capabilities for those reasons. Some large pharma companies, despite having proprietary manufacturing capabilities, outsource more than half of their clinical stage oligonucleotide manufacturing operations.2
We support our customers with a comprehensive portfolio of products and customisation options whether they choose in-house production or rely on us for manufacturing. Our technical experts can provide guidance to help determine whether in-house oligo production is a viable, economical option for your project needs.
Boost in-house oligonucleotide production success
As you know, there are many decision points during the oligonucleotide synthesis cycle that can affect the quality and yield of the end product. Here are some recommendations that can help establish a solid foundation for in-house oligonucleotide production.
Review the synthesis cycle and compare product options for each step
To optimise the quality and yield of the final oligonucleotide product, each step must be carefully considered to ensure that the appropriate protocols and products are used based on the specific application objectives.
Choose a supportive manufacturing partner
It's critical to choose a manufacturer that will support your in-house oligo production journey. Whether you're just starting to consider in-house production or are scaling current operations, our technical teams can meet you where you are to offer guidance and customised recommendations.
Secure appropriate resources
Before diving into in-house production, it's critical to take stock of your resources and manufacturing capabilities. Do you have the space, equipment, time and expertise to produce a quality product? If not, are you able to secure those resources to support in-house production?
Ensure quality reagents

We control and check our entire manufacturing process, repeatedly, at every stage of production. In addition, our Quality Management System is ISO 9001 certified to meet rigorous production standards.

As previously discussed, quality oligonucleotides are essential for positive application outcomes. To obtain a high-quality end-product, it's essential to start with high-quality reagents that deliver consistent, reliable results.
Our second blog post deep dives into the best practices for oligonucleotide synthesis. While there are benefits to producing oligonucleotides in-house, thorough analysis and thoughtful planning are required for successful operations. Contact us to connect with a specialist who can help match your needs with the appropriate synthesis scale and throughput setup.
Learn more about our comprehensive product portfolio that offers end-to-end support for nearly any oligonucleotide synthesis application.
If you are thinking about bringing oligo synthesis in-house, there are many considerations to account for beyond instrument selection. But the benefits of synthesising your own oligos are clear.

Download this guide that summarises all the practical and technical information in a single place, to ensure that your synthesizers run at full capacity and you maximise your return on investment.
References
McBride LJ and Caruthers MH. An investigation of several deoxynucleoside phosphoramidites useful for synthesising deoxyoligonucleotides. Tetrahedron Lett 24, 245-248. 1983.
Businesswire. Global Oligonucleotide Synthesis, Modification and Purification Services Market - Manufacturers Offering Oligonucleotide Chemistries and Components for Delivery of COVID-19 Detection Kits At Scale. Published 2020. Accessed August 14, 2021.

https://www.businesswire.com/news/home/20200602005393/en/Global-Oligonucleotide-Synthesis-Modification-and-Purification-Services-Market---Manufacturers-Offering-Oligonucleotide-Chemistries-and-Components-for-Delivery-of-COVID-19-Detection-Kits-At-Scale---ResearchAndMarkets.com