Time to read: 10 minutes
Updated Thu, Mar 31, 2016 @ 02:00 PM
Originally Published Thu, Mar 31, 2016 @ 02:00 PM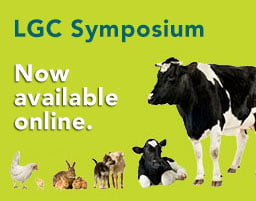 At this year's 24th annual Plant & Animal Genome (PAG) conference, LGC Biosearch Technologies hosted a symposium titled "Latest advancements in genotyping technologies for molecular breeding." This symposium featured key AgBio opinion leaders and industry professionals to discuss about recent developments within the field of marker assisted selection. The slides and audio from these presentations are now available online for your immediate viewing. The presenters and their topics are as follows:
From First Generation to Second Generation Plant Genotyping Arrays
Martin Ganal, TraitGenetics GmbH
In his presentation, Dr. Ganal discusses Array Genotyping as the ideal tool for the analysis of genetic material, experimental populations and for crop breeding programs. It provides standardized and cost-efficient genotyping for many samples with little ascertainment bias, missing data, and without the need of complex bioinformatic analyses.
LGC genomics has been appointed as TraitGenetics' Global Distribution Partner for its array based SNP genotyping services since October 2015.
Accelerated Crop Improvement using Sequence Based Genotyping (SBG)
Anker P. Sørensen, KeyGene
Anker's talk provides an overview of NGS (next generation sequencing) AgBio applications including Sequence-Based Genotyping. This method combines restriction enzyme-mediated complexity reduction with the high-throughput sequencing capacity of Illumina platforms to score random markers across an entire genome. Applicable in almost any crop or organism, SBG does not require prior knowledge of genome sequence information due to de novo sequence assembly. It is a highly cost-efficient solution for simultaneous marker discovery and SNP (single nucleotide polymorphism) genotyping.
In January 2016, KeyGene licensed its Sequence-Based Genotyping technology to LGC, expanding our technology portfolio.
Challenges and Opportunities of Simplex Genotyping for Cotton Genome Research and Manipulation
David Stelly, Texas A&M University
In this discussion of KASP genotyping, Dr. Stelly displays the potential utility of this SNP detection for crop research. KASP technology is a PCR based, homogenous fluorescence (FRET) based assay that enables highly accurate bi-allelic discrimination of known SNPs and InDels (Insertions and Deletions). Unlike other PCR based genotyping assays, KASP requires no labelling of the target-specific primers / probes, giving it a clear cost advantage. This presentation demonstrates how they applied KASP in developing simplex genotyping in cotton genome research and manipulation. They also found KASP useful for a number of genomics-related applications, ranging from bioinformatics pipeline development to integrated mapping. Listen to the talk and learn about innovative applications of KASP genotyping.
For more information about these technologies and their availability please contact us at techsupport@biosearchtech.com.