Time to read: 3 minute read
Updated : Tue, July 25, 2023 @ 5:37 PM
Originally published : Tue, July 7, 2020 @ 6:42 PM
Updated : Tue, October 6, 2020 @ 6:44 PM
As countries worldwide begin to ease lockdown restrictions during the pandemic and prepare to return to "normal" without a vaccine for COVID-19 or effective treatments in place, prudent testing measures need to be taken to suppress new infections. It is critical to test more people rapidly to identify who is infected, track them to avoid the disease from spreading and tracing with whom they have been in contact. Reverse transcription PCR (RT-PCR) testing method currently represents the majority of COVID-19 molecular diagnostics that helps identify individuals who are infected at the time of the test.
The synthetic oligonucleotide industry is uniquely positioned in this crisis with its capabilities to manufacture and deliver RT-PCR probes and primers - the critical components that detect the virus thereby enabling diagnostics. Some of America's most prominent doctors, who have been the most vocal on public health, say the country must conduct at least 6 million tests a week to capture most cases and prevent the disease from spreading as the public returns to work and schools. That's still about twice the amount of weekly tests being conducted in the country.
RT-PCR detects the presence of SARS‑CoV‑2, the viral agent responsible for COVID‑19, by tracking the presence of viral genetic material in a patient sample. Samples are taken from places likely to have a high virus concentration, such as the nose or mouth. With RT-PCR, probes and primers that are designed against the virus' native genetic sequence interact with the sample. Upon detection of the virus, the probes fluoresce (due to amplification) and an infection is thus confirmed.
To meet the increased demand in diagnostic testing as lockdowns ease, RT-PCR is being heavily carried out by clinical labs worldwide, and high complexity CLIA labs in the US. The challenge is ensuring critical supply of viral RNA isolation kits, RT-PCR probes and primers, enzymes and master mix reagents. LGC, Biosearch Technologies' robust, vertically integrated manufacturing processes can easily scale up to meet immediate demand of probes and primers used to detect SARS-CoV-2 as the pandemic evolves and demand for testing grows. The stock maintained is sufficient to support millions of tests worldwide.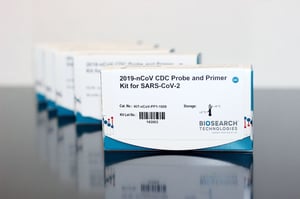 Purity and yield are always top of mind for oligo manufacturers. With increased demand as an acceptable commercial supplier of 2019-nCoV CDC-qualified probe and primer kits, produced in accordance with CDC's Emergency Use Authorization (EUA), Biosearch Technologies turned to Honeywell to boost its supply of BioSynTM high purity reagents and solvents that are used in oligonucleotide synthesis.
Mark Dearden, Managing Director Biosearch Technologies, said, "LGC was one of the first companies to support a global response to COVID-19 by supplying probes and primers to high complexity CLIA labs and IVD developers. We have scaled up our oligonucleotide manufacturing to enable millions worth of tests on a weekly basis and have also made available viral RNA purification kits and one-step RT-PCR reagents available for Research Use Only to address some of the supply chain issues seen in clinical labs."
When supplying critical components that have direct impact on COVID-19 testing, manufacturers must take precautionary measures to mitigate risk, ensure safety, and leverage efficiencies in their production pipeline in order to deliver high performing products quickly and without interruption.
Manufacturing PCR probes and primers must follow key risk mitigation protocols to ensure there is no contamination from one order to another. PCR is arguably one of the most enabling technologies of modern molecular biology, with a sensitivity that can detect incredibly small amounts of DNA. However, the sensitivity of the method is also one of the biggest challenges—when you can detect just a few molecules of DNA, inadvertent contamination can give you misleading data and can generate false positive diagnostic test results. Because oligos longer than 45 nt (a.k.a. longmers) can serve as templates for amplification, and there is a small but plausible risk of trace amounts of oligo from one order contaminating another order (via aerosolisation), Biosearch Technologies follows a very stringent process for screening orders for oligos longer than 45 nt. Any orders that could jeopardise the quality and reliability of any of our clients' assays are rejected.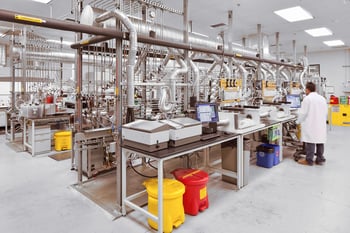 As an added precaution, Honeywell also supplied its chemicals to Biosearch Technologies in innovative Stainless Steel Pressure Dispense System (SSPDS) Containers. These innovative returnable containers provide an environmentally responsible way to enhance lab safety and efficiency and streamline how chemicals and analytical reagents are integrated into the laboratory workflow. Unlike a glass bottle, which must be opened, each SSPDS container is a sealed, break-resistant system, reducing employee exposure to its contents, and increasing shelf life by maintaining purity.
Honeywell and Biosearch Technologies continue to drive supply chain security and have prioritised access to critical materials. From sample preparation and SARS-CoV-2 detection reagents at Biosearch Technologies to analytical chemistry workflows and N95 disposable masks at Honeywell, we are committed to enable a rapid response to COVID-19.
***

For more than three decades, Honeywell's solutions and services have helped the world's leading drug manufacturers and biomedical firms enhance operations and build more effective, profitable businesses and improve patients' lives. Honeywell's cutting-edge technologies, specialty chemicals and advanced materials help create the future of medicine and medical devices, improve information transparency and tracking to support timely, accurate and safe healthcare delivery, and streamline manufacturing and distribution of medical products to patients.

Biosearch Technologies is the comprehensive genomics portfolio from LGC, providing products and services for genomic analysis that support mission critical applications for global customers in molecular diagnostics. Biosearch complements customers' product development pipeline through a robust research grade and cGMP oligonucleotide manufacturing. The company also offers expertise in NGS, isothermal, qPCR-based applications where technologies such as BHQ probes are frequently used in LDTs, ASRs and in vitro diagnostics.
Blog written by: Aparajita Kapoor and Grace Lean
Aparajita Kapoor is Global Marketing Leader for Honeywell's Research Chemicals business. Grace Lean is Head of Tactical Marketing and Marketing Operations for LGC, Biosearch Technologies.