Time to read: 10 minutes
Updated Thu, Oct 23, 2014 @ 02:00 PM
Originally Published Thu, Oct 23, 2014 @ 02:00 PM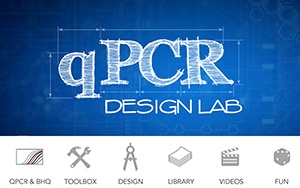 Biosearch Technologies has launched qPCRdesign.com, a new microsite targeted specifically for your quantitative PCR needs. In the qPCR Design lab, users can design, analyze, experiment, and play with a variety of interactive tools at their disposal. This is an excellent resource for both new and seasoned qPCR users to access information, advice, or the tools to quickly perform calculations and begin performing assays in no time!
qPCR Design lab contains six different
areas to explore:
OligoSpecTM Calculator: Intended for use with any oligonucleotide, allowing users to input their sequence along with any 3', 5', or internal modifications. It then calculates various properties of the entered oligo, including the extinction coefficient and molecular weight.
qPCR Reaction Estimator: Calculate how many reactions can potentially be performed with a given amount of oligo, by simply entering some basic information about your reaction conditions.
Oligo Resuspension Calculator: Determines the volume of diluent necessary to create the desired concentration of oligo stock solution prior to aliquoting.
Oligo Concentration Calculator: Gauge the concentration of your oligo from the OD260 reading and extinction coefficient (that can also be determined using OligoSpec Calculator).
Oligo Dilution Calculator: Determine how much oligo needs to go into your master mix, given reaction conditions.
Spectral Overlay Tool for Multiplexed qPCR: This tool allows users to select the appropriate dyes for their specific qPCR instrument and shows which quenchers are recommended for the selected dyes, making the design of multiplex assays much simpler.
Be sure to check out the website for you qPCR needs, or just stop by in between runs and play some qPCR Crush. If you have any feedback or suggestions for the site, please contact qPCRdesign@biosearchtech.com.