It may seem strange that a company known for transforming the global seed breeding industry is uniquely positioned to help COVID-19 testing labs overcome bottlenecks and rapidly scale-up testing. However, when you look at the problems testing labs are facing, it becomes clear that LGC, Biosearch Technologies has all the right tools for a rapid and robust pandemic response, even with the need to validate our Research Use Only (RUO) products for diagnostic testing. Today's significantly altered conditions require new approaches and new solutions.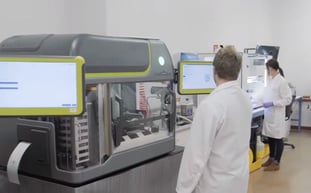 Problem 1: Testing labs have not been optimized for rapid, high-volume real-time PCR capabilities
Before the COVID-19 pandemic, the demand for real-time PCR assays (also referred to as qPCR assays and the type of assay used to detect early SARS-CoV-2 infection) looked quite different. Testing labs would run multiple qPCR assays to detect a range of indications, and the number of patient samples being tested on a day-to-day basis was fairly low. As a result, most testing labs' staffing, workflows, and instruments have been built around processing hundreds of samples per day rather than the thousands and tens-of-thousands of samples per day that is currently needed. While scaling up may sound as simple as hiring more staff and purchasing more instruments, not every instrument maker is able to rapidly increase production, especially for reagents, which is one of today's biggest testing bottlenecks.
Problem 2: "Closed" testing platforms exacerbate reagent shortages
An important driver of the reagent shortages is the "closed" nature of many of the molecular diagnostic testing platforms currently in use. These systems are considered "closed" because they can only be used with the proprietary reagents sold by the platform's manufacturer. Thus, if the manufacturer runs into shortages anywhere in the reagent manufacturing supply chain, testing labs have no other sources for these critical materials and must wait for the lone vendor to scale-up production. This can result in testing capacity sitting idle while labs wait for the necessary assay reagents.
Solution: The scope and scale of agrigenomics breeding projects mirrors the current need for COVID-19 testing
Unlike molecular diagnostic testing platforms which are optimized to assess low numbers of samples for a range of different molecular signatures, agrigenomics breeding projects operate on much larger scales. To develop more resilient, productive, and nutritious crops, seed breeders routinely use genomics methods to rapidly and cost-effectively test DNA from thousands and even millions of plants in search of the one or two DNA markers that indicate the presence of the desired trait. Many of these AgBio companies accomplish this process with the help of solutions from Biosearch Technologies.
As a leader of high-throughput automated DNA extraction, assay preparation, amplification and detection solutions for the agrigenomics industry, Biosearch Technologies has worked closely with our AgBio partners to create systems that automate the analysis of millions of samples per year and the interpretation of that data. These Research Use Only (RUO) systems can deliver the same fast, massively high-throughput testing for SARS-CoV-2 that is used by the AgBio industry, as some testing labs have already found.
The path from RUO to testing labs
The flexibility, speed, and automation of Biosearch Technologies' genomic solutions were originally designed for a different industry's problem but are suddenly highly relevant to today's medical need. The Research Use Only (RUO) designation of our tools puts clinical validation and regulatory responsibilities in the hands of the users, but the benefits of turning to RUO products have never been more dramatically important.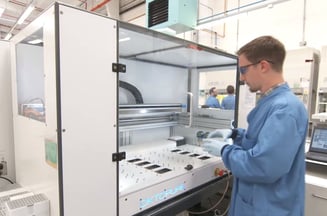 Equipment like the oKtopure™, a nucleic acid purification robot that processes 768 samples at a time, and the IntelliQube™, which provides automated, end-to-end DNA or RNA preparation and qPCR, greatly exceed the throughput capabilities of most current qPCR testing systems and offer the potential to help labs rapidly increase testing capacity. These instruments are appearing in a growing number of EUA applications and show real promise in alleviating the throughput challenges most laboratories face.
In addition to being high-throughput, instruments like the oKtopure and IntelliQube are "open" platforms, which means that they are compatible with any combination of assay chemistries and components. Thus, labs can source components from a variety of suppliers as needed without being constrained to a proprietary, exclusive source of materials and reagents. Further, the open nature of these systems gives labs the flexibility to create emergency high throughput testing regimes that can integrate with existing equipment, infrastructure, and expertise. For example, a lab could use an in-house or preferred master mix with an RUO designated RT enzyme like Episcript and a primer/probe kit validated by the CDC, enabling the use of familiar protocols or chemistries, streamlined integration with established inventory processes, and, most importantly, the ability to secure an ongoing supply.
The pros and cons of turning to RUO instruments and chemistries
The use of RUO equipment and chemistries does carry an additional burden over an FDA-approved diagnostic device—the responsibility of validation and regulatory rigor falls entirely upon the laboratory using it, as RUO equipment can carry no claims of diagnostic performance. However, the potential benefit provided by high-throughput genomics automation and reagents in the face of the current pandemic far outweigh the extra burden of proof, as evidenced by the adoption of RUO systems by laboratories like Genetworx, and CoDiagnostics' partnerships with numerous laboratories.
Acknowledging the magnitude of the testing need, the FDA have been highly responsive and adaptive, streamlining the emergency use authorization (EUA) process, allowing testing labs to modify EUA tests as long as appropriate bridging studies have been done, and accelerating the adoption of RUO tools given sufficient clinical validation by the testing lab. As a result, labs have been able to quickly and creatively address the many challenges of the current crisis, such as reagent bottlenecks and rapid scale-up.
Addressing the pandemic together
Biosearch Technologies bridges two parallel industries - agrigenomics and diagnostics - that share common analytical workflows but have distinct user needs and risks. We have a strong genomics focus, with workflow tools spanning powerful automation, a vast chemistry portfolio, and a collection of unrivaled genomics lab services. Yet today's challenges are teaching us that we can do even more to translate the benefits and lessons learned from one industry to the other. The wider adoption of agrigenomics RUO instruments and products into the diagnostic setting may help future challenges that none of us have yet anticipated.
Biosearch Technologies can help you speed and scale your SARS-CoV-2 assays across the testing workflow. Tells us what your challenges are and we'll work with you build a solution.