It seems everyone wants to do more with less, and automate the process as well. But this can cause a number of challenges for even a traditional molecular diagnostics tool such as PCR.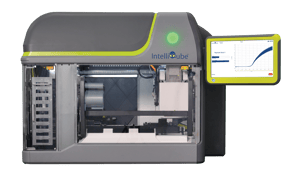 The versatility of PCR has led to a myriad of spin-off techniques, including probe-based quantitative PCR (qPCR). To increase the utility of the method, multiplexed qPCR uses several pairs of gene-specific primers and probes to amplify and measure multiple target sequences simultaneously. This helps reduce material costs and increase efficiencies, although upstream optimisation is required.
While there are a number of PCR instruments on the market that can perform one-step qPCR , the IntelliQube® is unique in providing a fully-automated walk-away system that delivers the flexibility and scalability necessary to economically expand qPCR workflows while minimising reaction volumes of just 1.6 uL using Array Tape®.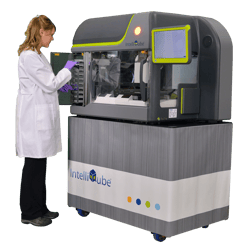 We recently worked with experts from TATAA Biocenter in Sweden to evaluate the performance of the IntelliQube using BHQ-probe based assays for a gene expression model study of the Mucin 1 (Muc1) gene across a number of tissues types.
Without wanting to provide too many spoilers, the study demonstrates the ability of the instrument to successfully multiplex three BHQ qPCR assays and a passive reference dye for gene expression studies without compromising data quality.
To learn more, just click here to download the study.