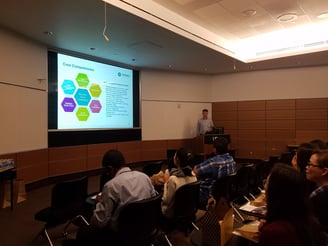 Recently LGC Genomics hosted a lunch and learn Stellaris® seminar at the Helen Diller Cancer Institute at UCSF with our very own R&D Scientist Dr.Hans Johansson who lead the discussion about the various applications of Stellaris fluorescence in situ hybridization (FISH).
Stellaris RNA FISH is a precise tool that enables simultaneous detection, localization, and quantification of individual RNA molecules at the cellular level. In addition, Dr.Johansson also revealed that Stellaris enables easy and direct multiplexing, which makes it an ideal technology for detecting multiple targets. Stellaris offers the unique ability to observe altered disease-specific expression in intact tissue.
Dr. Johansson's presentation highlighted the basic chemistries and various downstream applications of Stellaris RNA FISH and how this technology can be used to support the oncology research being conducted at UCSF. The talk began with an overview of how Stellaris works and continued by characterizing a variety of cellular phenotypes including gene knockdown efficiency, cell line identification, allele specific gene expression, and alternative splicing events. The talk also included a variant of the Stellaris technique termed "ICE-FISH" which targets intron RNA expression and serves to measure gene expression and chromosome structure simultaneously on single chromosomes. Since most RNA processing occurs co-transcriptionally, including pre-mRNA splicing, introns can be used as a location proxy for the encoding gene.
Johansson is a seasoned Stellaris RNA FISH expert who has been a Senior Scientist with LGC Biosearch Technologies since 2004, has over 30 published and patented works. His main research interests are in the field of chemistry, biochemistry, and cell and molecular biology of RNA, recently focusing on Stellaris single molecule RNA detection by fluorescence in situ hybridization (smRNA-FISH).
To get more information about RNA FISH for cancer targets check out this web page.
Didn't make it to our discussion? Don't worry – we've got you covered. We've recorded Dr. Johansson's presentation, and it will be featured in an upcoming blog post. Trust us. You're not going to want to miss it twice!