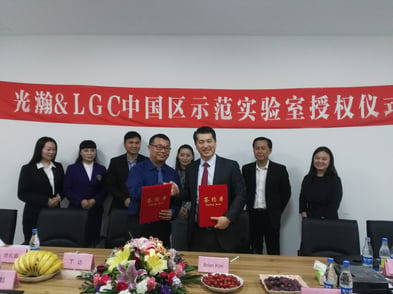 LGC's Genomics Division has signed a memorandum of understanding (MOU) with Chinese health management expert Personal Health to establish a genotyping research partnership. The partnership will see Personal Health become the first "LGC Douglas Scientific® High-Throughput Genotyping Demo Lab" in China.
The MOU was signed at Personal Health's headquarters in Shanghai, on 25th April by Brian Kim, Managing Director of LGC's Genomics Division, and Ding Da, Chief Executive Officer of Personal Health. Lincoln Ong, APAC Sales Director, LGC Genomics Division and Wei Wu, Business Director, China, LGC Genomics Division also attended this momentous ceremony. A key part of the ceremony was the unveiling of a plaque certifying Personal Health as an "LGC Douglas Scientific High-Throughput Genotyping Demo Lab", demonstrating the close partnership that has formed.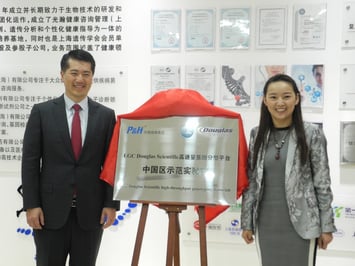 This occasion cemented Personal Health's position as the first demonstration laboratory in China and allows the sharing of Personal Health's experiences with LGC Douglas Scientific's Nexar®, Soellex® and Araya® instruments as well as the innovative Array Tape® consumable. Moving forward, LGC Genomics will collaborate closely with Personal Health to develop case studies highlighting the use of this automated genotyping platform for human research applications. This partnership allows LGC to present Personal Health as a model for using Array Tape® in high-throughput genotyping thereby increasing awareness of LGC's platform and enhancing its reputation in China.

We are looking forward to the increased collaboration and contributing further to a shared vision of science for a safer world!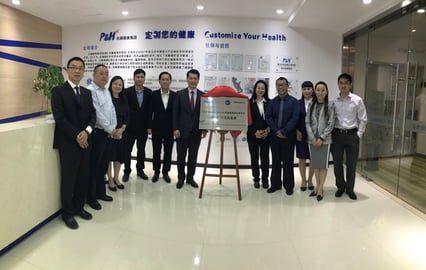 About Personal Health:
Personal Health is a health management and service company with solutions across health consultation, gene detection, genetic analysis and personalized health guidance. Personal Health is devoted to provide professional genetic detection and personalized health consultation for medium-to-high end clients.