Time to read: 2 minute read
Updated : Thu, November 3, 2016 @ 3:27 PM
Originally published : Thu, Feb 11, 2016 @ 02:16 PM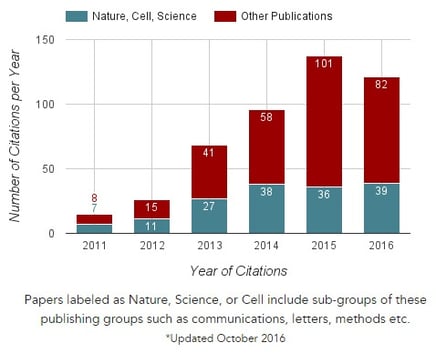 We have recently released a Stellaris® RNA FISH Citation Center to make it easy to find publications related to your areas of interest. Incredibly, a full third of these hundreds of papers are published in Nature, Science, or Cell, indicating both the tremendously high quality of our customer's work as well as the potential value of including Stellaris RNA FISH in your publications. The number of citing publications is growing precipitously each year and now includes a wealth of protocols, references, and technologies including super-resolution and STORM microscopy, whole mount, targets including viruses and plants, CLARITY, and other cutting edge applications. The citation center is updated several times a month to ensure that the most recent publications are always available.
Here, you will find hundreds of peer-reviewed publications citing Stellaris RNA FISH which have been painstakingly sorted into useful categories. You can search for publications focusing on your specific areas of research including model organism, RNA target type, application, multiplexing, product type, catalogue number, or fluorophore of choice.
How to Cite Stellaris RNA FISH probe sets
Don't get left out of the Citation Center due to incomplete citations. Below, you will find convenient cut and paste Stellaris RNA FISH citations where you can <insert your relevant product information>. This will make it very easy for other scientists to locate and cross-reference the RNA FISH probe sets that you used for your publication and help to grow the cache of knowledge that we are building together.
Citing Custom Probe Sets Designed with the Stellaris® FISH Probe Designer: "Custom Stellaris® FISH Probes were designed against <your RNA of interest (include NM# and nucleotides covered if relevant> by utilizing the Stellaris® RNA FISH Probe Designer (Biosearch Technologies, Inc., Petaluma, CA) available online at www.biosearchtech.com/stellarisdesigner (version #). The <your RNA of interest> were hybridized with the <your dye of choice> Stellaris RNA FISH Probe set labeled with (Biosearch Technologies, Inc.), following the manufacturer's instructions available online at www.biosearchtech.com/stellarisprotocols. Briefly, <describe any deviations from the published protocol or short summary of what was actually performed>."
Citing ShipReady and DesignReady Probe Sets: "Stellaris® FISH Probes recognizing <catalogued gene set name> and labeled <your dye of choice> with (Catalog #, Biosearch Technologies, Inc., Petaluma, CA) were hybridized to <samples>, following the manufacturer's instructions available online at www.biosearchtech.com/stellarisprotocols. Briefly, <describe any deviations from the published protocol or short summary of what was actually performed>."
Citing Custom Probe Sets Utilizing Previously Published Sequences: "Custom Stellaris® FISH Probes recognizing <your RNA of interest (include NM# and nucleotides covered if relevant)> and labeled with <your dye of choice>, were purchased from Biosearch Technologies, Inc. (Petaluma, CA). Probe set sequences utilized in the experiments have been previously described <cite published manuscript>. The <samples> were hybridized with the <your RNA of interest> Stellaris® FISH Probe set, following the manufacturer's instructions available online at www.biosearchtech.com/stellarisprotocols. Briefly, <describe any deviations from the published protocol or short summary of what was actually performed>."
Citing 3' Amine Oligos in Plates Used for Stellaris RNA FISH Designed with the Stellaris® FISH Probe Designer: "Custom 3' amine oligos in plates were designed against <your RNA of interest (include NM# and nucleotides covered if relevant)> by utilizing the Stellaris® RNA FISH Probe Designer (Biosearch Technologies, Inc., Petaluma, CA) available online at www.biosearchtech.com/stellarisdesigner (version #). Probes were labeled with <your dye of choice> using <insert your labeling protocol or citation of previously published labeling protocol>. The <samples> were hybridized with <your RNA of interest> the oligonucleotides (Biosearch Technologies, Inc.), following the manufacturer's instructions available online at www.biosearchtech.com/stellarisprotocols. Briefly, <describe any deviations from the published protocol or short summary of what was actually performed>."
Citing 3' Amine Oligos in Plates Used for Stellaris RNA FISH Using Previously Published Sequences: "Custom 3' amine oligos in plates recognizing <your RNA of interest (include NM# and nucleotides covered if relevant)> were purchased from Biosearch Technologies, Inc. (Petaluma, CA). Probe set sequences utilized in the experiments have been previously described <cite published manuscript>. Probes were labeled with using <your dye of choice>. The <samples> were hybridized with <your RNA of interest> the oligonucleotides (Biosearch Technologies, Inc.), following the manufacturer's instructions available online at www.biosearchtech.com/stellarisprotocols (access date). Briefly, <describe any deviations from the published protocol or short summary of what was actually performed>."