Time to read: 2 minute read
Updated : Thu, June 22, 2017 @ 12:25 PM
Originally published : Tue, May 09, 2017 @ 08:42 AM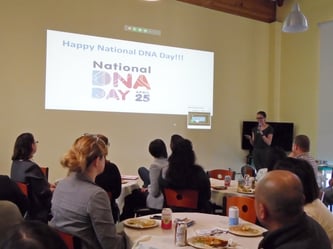 International DNA day celebrates the successful completion of the Human Genome Project in 2003 and the discovery of DNA's double helix in 1953. In celebration of DNA day, Dr. Karen Ring of the California Institute of Regenerative Medicine (CIRM) came to speak at the Novato GMP facility to highlight the advances made in stem cell research and CIRM's recently funded genomics initiative. The talk, both inspirational and illuminating, was also a great reminder that the oligonucleotides we manufacture have a wide range of applications in basic and translational research.
Dr. Karen Ring received her Doctorate degree from UCSF in Biomedical Sciences. She then held a postdoctoral position at The Buck Institute for Research on Aging where she studied the applications of stem cells for therapeutic interventions in Huntington's Disease . In a departure from her postdoctoral research, Dr. Ring now serves as the Website and Social Media Manager for CIRM, where she is able to share the successes and challenges of this promising research with wide audiences.
We followed up with Dr. Ring after the seminar to learn more about her background, CIRM, and the clinical trials funded by CIRM.
What sparked your interest in stem cell research?
I was inspired by Dr. Shinya Yamanaka's Nobel Prize winning research on induced pluripotent stem cells (iPSCs). He discovered that four transcription factors are capable of reprogramming adult cells like skin and blood back to a pluripotent, embryonic-like stem cell state. iPSCs are powerful tools that help scientists model disease, understand human development, and identify new drugs to treat patients. I started graduate school at UCSF working in a lab at the Gladstone Institutes when Yamanaka's paper was published. The future impact of his research was one of my motivations to pursue stem cell research. I also was interested in understanding neurodegeneration and as I mentioned, stem cells are very useful for modeling neurodegenerative diseases like Parkinson's and Huntington's disease in a dish.
Are there any specific trials that have grabbed your attention?
CIRM is currently funding 29 clinical trials for stem cell-based therapies or therapies that act on stem cells in the body. Some of these trials are already reporting positive results which is very exciting. Two trials that come to mind are for spinal cord injury and for a disease of blindness called retinitis pigmentosa (RP). Our spinal cord injury trial is sponsored by Asterias Biotherapeutics. They are transplanting oligodendrocyte progenitor cells into the spinal cords of patients with severe injuries. These patients lost their ability to move or feel from the neck down. We are happy to share that six out of six patients receiving a 10 million dose of cells experienced improvements in their movement six months after the injection. Our RP trial is sponsored by jCyte and is transplanting human retinal progenitor cells into the back of the eyes of patients with RP. We've talked to a few of these patients who participated in this safety trial and they haven't had any negative side effects. Some of them are experiencing improvements in their vision and have gone from being completely blind to seeing shapes and colors. jCyte announced in April of this year that they are starting the second phase of this trial in patients with RP, which is exciting news!
What do you see the future holding for CIRM post 2020?
CIRM has around $650 million in funding left to award. Our projections indicate that our funding will run out in 2020. There is the possibility that a new ballot initiative will be on the November 2018 ballot, but we as an agency are not involved in putting this initiative together nor do we know whether the initiative would refund our agency or establish a new agency that funds stem cell research. That being said, CIRM has already established initiatives and infrastructure whose impact on stem cell research and regenerative medicine will last long after 2020.
To learn more about these initiatives and become a CIRM Stem Cell Champion, visit the CIRM website and their Champions page.