Time to read: 10 minutes
Updated Wed, Feb 13, 2019 @ 08:08 AM
Originally Published Wed, Feb 13, 2019 @ 08:08 AM
Blindness, cardiovascular disease, and stroke are all long-term health problems that can be caused by type 1 diabetes (T1D), a serious disease that typically manifests in children or adolescents. When the beta cells in the pancreas that produce insulin are destroyed, blood glucose levels become too high, and result in life-long dependence on daily insulin injections to control blood sugar levels.
Genetics contribute to T1D. It is estimated that about one in every 100 babies has genes that put them at an increased risk of developing type 1, insulin-dependent diabetes during childhood or adolescence.
But what if we could detect high risk infants early on and prevent this pathology from developing?

It has been shown recently that immunological tolerance can be achieved through administration of antigen under appropriate conditions. This approach may be effective in chronic inflammatory diseases such as multiple sclerosis, T1D, and allergies. For example, antigen-based prevention has been shown in a large study to prevent almost completely peanut allergy (The LEAP trial, Du Toit. G et al, New England Journal of Medicine, 2015).
So, based on this approach, could we train infants' immune systems to get used to insulin before the start of beta-cell autoimmunity as primary prevention for T1D?
This is exactly what the Global Platform for the Prevention of Autoimmune Diabetes (GPPAD) team is testing. The GPPAD program was initiated in 2015 with a goal of identifying infants with an elevated genetic predisposition for T1D. The aim is to determine whether daily administration of oral insulin from age four-seven months until age three years in children with elevated genetic risk for T1D reduces the cumulative incidence of beta-cell autoantibodies and diabetes in childhood.
As part of the study, pregnant women visiting maternity clinics in several regions and countries in Europe (Germany, Sweden, Belgium, Poland, and UK) are being asked to sign up for the trial.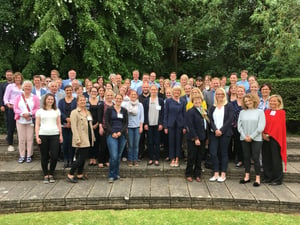 LGC Biosearch Technologies is helping to identify T1D high-risk children by extracting DNA from the heel prick blood sample taken shortly after birth , and genotyping 47 genetic risk markers (learn more on our extraction and genotyping services). This genetic information, along with familial history for T1D, is then used by the GPPAD team to identify new-borns with a high risk of developing the autoimmunity. These children can then participate in a clinical trial to receive oral insulin or placebo for the prevention of T1D and hopefully, life-long protection. The GPPAD team plans to test over 300,000 new-borns in the next three years and recruit more than 1,000 children for the clinical trial.
This study, funded by The Leona M. and Harry B. Helmsley Charitable Trust and coordinated by Professor Anette Ziegler at the Helmholtz Centre Munich, could well redefine the incidence of T1D development. Major benefits of this trial could include public health measures for screening and prevention being applied to a disease that is currently increasing in prevalence and is considered a worldwide health burden. Additionally, antigen-based therapy in T1D could also serve as a model for other childhood conditions and illnesses.
To find out more about the GPPAD project, visit https://www.gppad.org/en/.
Our team is looking to support additional projects. For more information, contact us here.