Neuroscientists are renowned for working across a number of fields spanning the life sciences and social sciences as well as engineering and mathematics. An area that is rarely acknowledged is that many of the latest discoveries of how the brain works at the molecular level are incredibly artistic.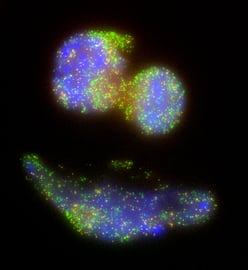 Fluorescence microscopy is an art as well as a science, and LGC Biosearch wants to help free that art from the lab and is hosting an image contest.
All fluorescent microscopy images are welcome no matter how they were generated – Stellaris® RNA FISH probe sets, protein antibodies, DNA FISH, or other ISH or probe-based detection technologies.
So if you've had a brain wave in the lab, please do submit your images to our Pic Your Brain Photo Contest that can be found here. The image that amasses the most votes wins, and the lucky neuroscientist will receive a Stellaris Starter Kit.
Entry really is a no-brainer as you will automatically be entered into a random prize drawing for a chance to win a Stellaris ShipReady probe set of your choice. Three (3) winners will be selectd from the random drawing.
So Pic Your Brains, submit your images and get voting – the competition ends on November 16th at midnight (PDT).
For more information about Stellaris and the waves it is making amongst the neuroscience community, click here.