Since its inception, qPCR has been recognized as a powerful molecular method. However, the application of this technique in research has not always been straight-forward or standardized. In 2009, a group of qPCR experts published a series of standards for the execution, analysis, and reporting of qPCR data. These guidelines were dubbed the Minimum Information for Publication of Quantitative Real-Time PCR Experiments, or simply MIQE, and have now become the definitive reporting method adopted by a number of scientific journals.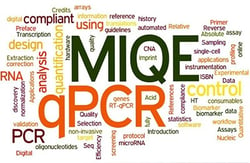 Image by Afif M. Abdel Nour & Michael W. Pfaffl via gene-quantification.com
This month, key opinion leaders in qPCR collaborated in the draft and release of an interactive iBook titled MIQE and qPCR: How to apply the MIQE guidelines – a visual, interactive, and practical qPCR guide. This guide is aimed at new users and expert practitioners alike to promote the continued use of MIQE guidelines and to provide a technical reference for qPCR. The first edition of the iBook contains thirteen chapters contributed from a group of expert scientists and edited by Dr. Afif Abdel Nour and Dr. Michael Pfaffl. The book covers a wide variety of topics from experimental design and quality control, to the inner workings of qPCR instrumentation. Perhaps the best feature of this excellent resource is that it is completely free and available for immediate download!
The digital format of this book will allow for expanded and updated content with future editions. Obtaining a copy of the iBook will ensure you stay up-to-date on the latest happenings in world of qPCR.
Chapters in the MIQE iBook:
A History of the MIQE guidelines
MIQE compliant quantification strategies in RT-qPCR
RNA quality control
qPCR Oligonucleotides Synthesis and Design
qPCR Instrumentation
Choosing reference genes
MIQE compliant qPCR data analysis and statistics
Improved data reproducibility using MIQE-compliant, automated qPCR workflows
MIQE guidelines and microRNA
Applying MIQE standards to dPCR experiments
Setup and Analysis of qPCR Transcript Assay Arrays
MIQE translations
Credits and Imprint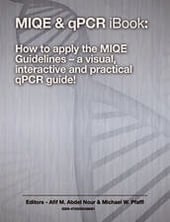 Click here to download the free iBook through iTunes.