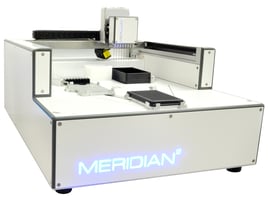 Manually dispensing reagents is time consuming and tiring, with fatigue and pressure leading to errors that render data unusable. This can lead to costly rework and laborious troubleshooting exercises.
The recently launched Meridian2TM automated liquid dispenser addresses the issue of accurately and effectively dispensing reagents and enables increased throughput.
This latest addition to the Meridian family features two plate positions for enhanced efficiency and throughput, integrates barcode reading and automates the mixing of assays. The Meridian2 can accurately dispense volumes as low as 1 μL into every well of a 1536-well plate in less than 45 seconds - with a CV of less than 5 %.
The system has been designed to support a wide range of dispensing applications including reagents for genotyping and standard PCR.
The combination of the vacuum-based aspiration system and innovative tip design enables multi-plate dispense for increased efficiency and cost effectiveness. In addition, the non-contact dispense method eliminates the potential for cross contamination and removes the requirement for disposable pipetting tips.
The Meridian2 is a key component of LGC's SNPline system of modular laboratory automation designed to meet the needs of laboratories generating high-quality genotyping data.
For more information on the Meridian2 visit here.