"Put in your samples, put in your assays, hit the green button and go!" It seems simple because it really is that simple.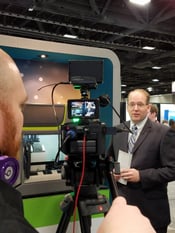 This past February, LGC Genomics set up shop in Washington DC to attend SLAS2017.
SLAS [the Society for Laboratory Automation and Screening] welcomed over 5000
scientists, technologists, researchers, academics and data informatics professionals
from 42 countries to this years' flagship
annual conference.
What a great platform to feature the IntelliQube®! O
ur very own Darren Cook, VP Global Sales, had a chance to chat with LabTube while attending the show.
The IntelliQube is one of the first fully automated medium to high-throughput instruments featuring seamless integration of liquid handling, thermal cycling, detection, and data analysis. It only made sense to showcase it at SLAS2017 to the 5,050 attendees interested in charting the future of life sciences discovery and technology.
Check out the video below to see how LGC's innovative instrument "builds off the backbone of Array Tape®" - our microtitre replacement solution. This is just another way that we've made our genomics solutions "better, faster, cheaper" and help to improve the quality through automation and further our overall mission - science for a safer world.
Want to learn more about the IntelliQube? Visit
here