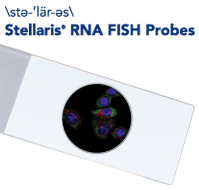 Stellaris FISH advances research in cancer, developmental biology and pathology by resolving in situ messenger RNA into clear focus.
Biosearch Technologies, Inc. (Biosearch), a leading supplier of sophisticated oligonucleotide components to the rapidly growing molecular diagnostics industry, today announced the release of an empowering new product, Stellaris FISH Probes*. Stellaris FISH (fluorescence in situ hybridization) is a RNA visualization method that allows simultaneous detection, localization, and quantification of individual mRNA molecules at the sub-cellular level in fixed samples.
To read the entire story, here's the full press release.