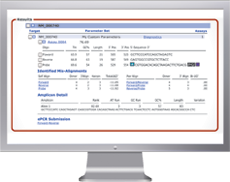 RealTimeDesign (RTD
TM
) Software from Biosearch Technologies is an easy to use, yet powerful assay design application for real-time qPCR. This user-friendly software is available free of charge through our website and requires NO installation. We have recently updated RealTimeDesign software with more options and improvements to the ordering process:
Option to rename sequences
Chance to review sequences before purchase
Purification selection for primers
Larger selection of synthesis scales
Improved transition from design to order
If you're not already familiar with RealTimeDesign software, this powerful design application puts you a few clicks away from:
Designing assays for Multiplex qPCR, SNP Genotyping, and Gene Expression
Designing BHQ Probes, BHQplusTM Probes, Amplifluor® Primers, and matching optimal primer pairs
Designing anywhere from single assays to high-throughput batches
Saving a list of your custom designs in your account "Design Run History"
Choosing from Biosearch's wide selection of dyes including our very own Black Hole Quencher® (BHQ®) dye
Designing Dual-Labeled BHQ® Probes has never been easier. To start using RealTimeDesign Software, visit www.biosearchtech.com/realtimedesign and create an account today!
See Also: