Quasar® WS Protein Labeling Kits (beta)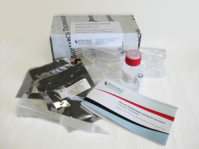 Biosearch Technologies is pleased to announce that we are offering protein labeling kits using our recently developed water soluble Quasar® WS dyes. These fluorescent dyes have charged substituents that add water solubility and resistance to self-quenching. Quasar 570WS and Quasar 670WS will be provided as succinimidyl active esters for labeling amine groups on proteins and other substrates.
Call for Beta Testers - Special Offer for Eligible Participants
In anticipation of the product launch, we're conducting a beta test for qualified customers. We're looking for customers experienced with protein labeling and who are willing to provide feedback on our new protein labeling kits. If qualified, you will receive these kits at $97.50, a 50% discount from the list price of $195. In addition, if you fill out a short survey after using the product, we will extend the same reduced price to your next purchase of a protein labeling kit.
Yes, I want to become a beta tester!
Why should you try the Biosearch Protein Labeling Kit?
• Low Price - three 1 mg protein reactions for $195
• Quick Results - total reaction and purification time of less than 1 hour
• Bright Signal - Uses Biosearch's Quasar WS dyes for a brighter signal
Click here if you're interested in becoming a beta tester for our Quasar WS Protein Labeling Kit.