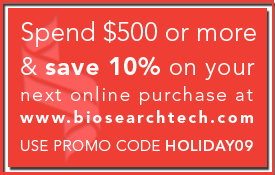 To celebrate the end of the year, we are offering a holiday promotion to our blog readers, Twitter followers, and Facebook fans. Spend a minimum of $500 at Biosearchtech.com and receive a 10% discount* off your online order. Simply enter the one-time use promotional code HOLIDAY09 upon checkout. Submit your order soon as this offer lasts until December 31, 2009. For more promotional details, please visit: www.biosearchtech.com/holiday09.
Don't forget that Biosearch Technologies offers a variety of products such as dual-labeled probes and primers, custom oligonucleotides with a wide variety of modifications, DNA/RNA synthesis reagents such as amidites, columns and CPGs, labeling reagents, and immunochemicals such as hapten reporter groups and other conjugates. You can access our complete product offerings by accessing our Products menu on our website.
*Promotion is valid for online orders and for one-time use only; Offer expires December, 31 2009; Promotion not valid when combined with other offers or discounts; 10% discounts will be applied to online orders with a total of $500 or more.